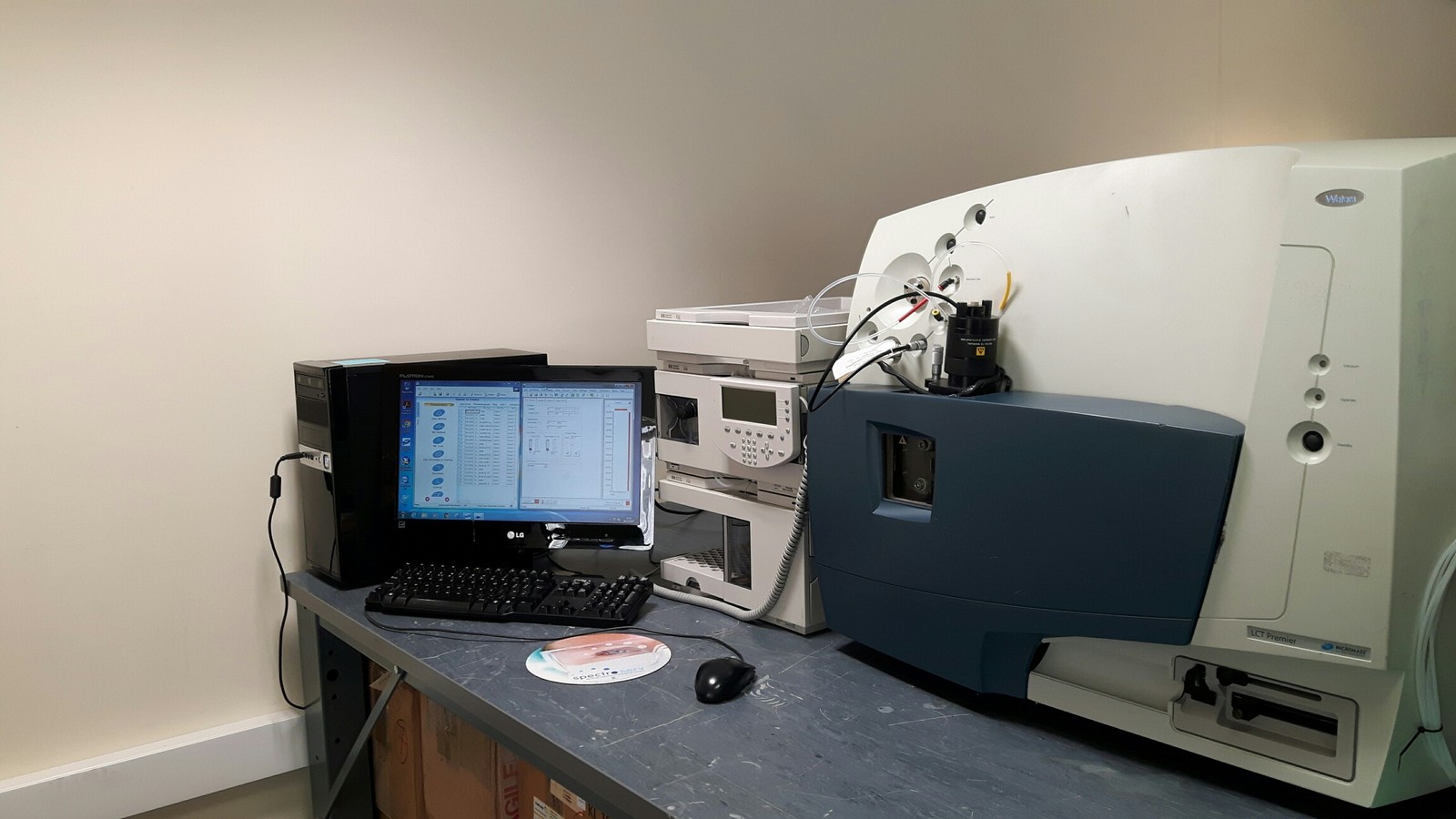 Click here to see similar items on eBay, and to buy.
Waters LCT Premier with Agilent 1100 – includes software licence!!- VERY GOOD condition.This Waters LCT Premier with Agilent 1100 system was de-installed in 2016 from, and is being sold on behalf of, Oxford University . All units are working to meet factory specifications.This systems includes:Refurbished Waters LCT Premier -The LCT Premier? time-of-flight (TOF) mass spectrometer features a ZSpray source with electrospray ionization (ESI) and modular LockSpray? interface. V-Transmission provides >5000 Full Width Half Maximum resolution (FWHM) and W-Transmission provides >10,000 FWHM resolution.Agilent 1100 HPLC -The Agilent 1100 Series G1312A Bin Pump ensures virtually pulse-free and stable solvent flow, with dual floating pistons in series, precisely servo-controlled. This design with variable stroke volume allows pulse-free solvent delivery and efficient mixing. An inlet-valve electronically activated and synchronized to piston stroke-eliminates vapour formation with volatile solvents and is maintenance free. Flow range:  Set points 0.001 ? 5 ml/min, in 0.001 ml/min increments, with a flow range of 0.1 ? 5.0 ml/min. Delay volume 180 – 480 uL without mixer, 600 – 900 uL with mixer. The HP/Agilent 1100 Control Module Model G1323A (Gameboy) provides complete local control and monitoring of a single module or an entire Agilent 1100 Series system.Computer with MassLynx 4.1 and MaxEnt including mouse & keyboard (software licence is transferable from seller) -MassLynx v4.1 User (1) MassLynx intelligently controls any Waters mass spectrometry system, from sample and solvent management components to mass spectrometer and auxiliary detectors. MassLynx Software may acquire nominal mass, exact mass, MS/MS and exact mass MS/MS data.
MaxEnt 1 is a proprietary software tool for the deconvolution of multiply charged electro-spray spectra with enhancement of spectral resolution and signal to noise. Complex biopolymer mass spectra, containing molecular ions in a related series of charge states are re-plotted into a homogenous (virtual Z = 0) charge state representation. The power of probabilistic techniques allows the inference of a single molecular mass peak from a series of multiply charged m/z peaks in the raw data. The inference improves resolution and also enhances signal to noise. MaxEnt1 is optimized for high mass speciesEdwards Rotary pumps 
Delivery, Installation, user training and extended warranty available on request.
WARRANTY TERMS AND CONDITIONS FOR USED EQUIPMENT3 month on-site warranty, effective from date of delivery. All warranty repairs will be attended on-site (regional restrictions apply) however the seller reserves the right to return the instrument to workshop for troubleshooting if required.TYPICAL PARTS NOT INCLUDED IN WARRANTY:Capillaries, Tubing, Vacuum Pump Oil, Exhaust Filters, Air Filters,  PCs and Monitors, LC/GC Column Fittings, Electron MultipliersAny other parts where cause of failure can be traced to customer error, neglect or accidental damage.
For advice regarding this item please contact us.
We are a full service MS repair company based in the UK operating since 1996 specialising in Waters Micromass and AB Sciex mass spectrometry instrumentation. With a large inventory of new and refurbished parts we offer service plans, rapid response and a team of experts at your disposal please contact us for more information.
Click here to buy, and to see similar items on eBay
---
Category: Business, Office and Industrial:Healthcare, Lab and Dental:Medical and Lab Equipment, Devices:Other Medical and Lab Equipment
Location: OLDHAM