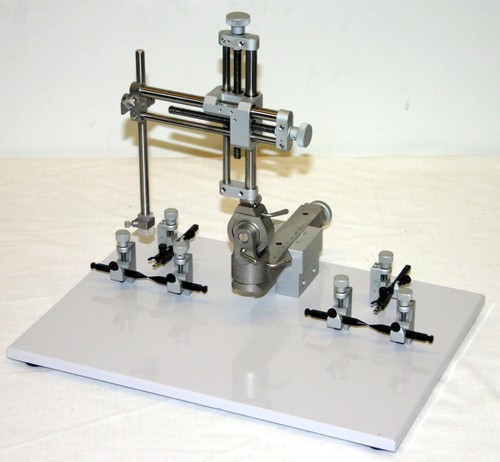 Click here to see similar items on eBay, and to buy.
STOELTING JUST FOR MOUSE DUAL STEREOTAXIC INSTRUMENT, MODEL 51725  
Stoelting
Just for Mouse Dual Stereotaxic Instrument
Model 51725
See additional 13 photos below.
Overview:
Dual platforms.
Vertical height adjustment for ear and tooth bar posts from 10g to 75g.
Delrin ear bars.
Triple lead screw in manipulator arm for fast positioning.
Accurate to 100 microns.
Gas Anesthesia Compatable.
Easily cleaned durable surface
Two Stereotaxics On a Single Base:
The Stoelting Just For Mice Stereotaxic Instrument was specifically developed for the expanding growth of research being conducted in laboratories using knock-out and transgenic mice. The Stoelting Just For Mice is ideal for researchers in need of a versatile, reliable instrument for stereotaxic procedures with mice and other small rodents. This innovative instrument allows the user to perform surgical procedures on two mice at one time. Precision alignment when using the Just For Mice ensures accurate placement of electrodes, micropipettes, cannula, and other devices. Stoeltings Just For Mice is the only instrument built especially for mice, and offers several advantages over competing "made for rat" instruments.
Saves Time:
Waiting time can be virtually eliminated. For example, in applications that require drying time for cranial plaster, surgery can be performed on one mouse while the cranial cement is drying on the other mouse. Or, one person can perform surgery while another person installs another mouse or neonatal rat. A zeroing function allows the user to target specific coordinates in the brain for injection, implantation, etc. Calculation of distance measurements is thus no longer necessary…saving valuable time and improving accuracy.
Dual Bases:
Stoelting has created two stereotaxic instruments on a single base. The base is 10″ x 17″ and has two ear bar and tooth holder slots located on each side. A tooth bar and nose clamp secures the nose. A single manipulator arm controls medio-lateral and ventro-dorsal positioning via triple-lead screws, and antero-posterior movement via dovetail slide movement, with 80mm of travel possible in each direction, allowing access to both ear bar locations.
Unique, light ear bars:
Ear bar posts may be independently adjusted in heighta unique feature of this stereotaxic instrumentto level the skull. Ear bars are composed of light Delrin material with tapered points. Laser engraved scales show the vertical positions of the ear bars. Model organisms with soft skulls, such as the mouse and the neonatal rat, are difficult to secure firmly in a traditional stereotaxic instrument. The stainless steel ear bars used for adult rats are too heavy to provide a secure hold without compressing the sides of the skull inward (which closes the airways and impedes blood flow.) Further, the neonatal rat pup has no external opening of the auditory canal for inserting the ear bar points.
Fully tested, guaranteed to meet original manufacturers specifications.
Condition: Excellent.
30 Day warranty.
University & Fortune 1000 Company Purchase Orders with open billing, Net 30.
The base has some minor stain spots and scratches.
Base: 14″W x 10″F-B
Net Weight: 9 pounds
Payment
     
I accept the following forms of payment: PayPal
Shipping & Handling Please check eBay's Shipping & Payment tab
UPS Ground
  FREE scheduling, supersized images
and templates. Get Vendio Sales Manager. 
 
FREE scheduling, supersized images
and templates. Get Vendio Sales Manager.
Over 100,000,000 served. Get FREE counters from Vendio today!
Click here to buy, and to see similar items on eBay
---
Category: Business and Industrial:Healthcare, Lab and Dental:Medical and Lab Equipment, Devices:Other Medical and Lab Equipment
Location: Lorton, Virginia